Shop By Age
A complete guide on choosing the right food for your baby
For new Moms, one of the biggest areas of concern is regarding what to feed their babies. At first there is the challenge of getting the latch right and then ensuring there is enough supply. As soon as this settles into a routine, it's time to start solids. Unlike breastfeeding, this stage can be quite confusing – there are so many foods that baby can eat!
When starting the weaning process, it's important to remember that an infant's digestive system is underdeveloped, so you need to choose foods that are easily digestible. Besides, his immunity is still immature, so every morsel of food you feed him needs to be 100% safe and hygienic.
This is why homemade baby food is recommended by all experts the world over. Commercially branded baby food products may be manufactured in hygienic factories, but they contain several additives including preservatives and added flavors, which have to be avoided at all costs. However, preparing every meal from scratch is not practical in our busy modern lives, especially if both parents have full time jobs and/or older kids to manage.
That's where Little Moppet Foods comes in – you get healthy, nutritious food, freshly homemade and hygienically packed under the supervision of a Doctor Mom, certified and tested in a NABL accredited laboratory. We have an extensive range of healthy food products for every age and stage, and for every dietary requirement, ensuring that even fussy eaters get all the nutrients they need for proper growth and development.
Welcome to the Little Moppet Family !
Basic First Foods – 6 Months+
Cereals
Moving from a milk-only diet to one with solid foods is a major milestone, for both Moms and babies. Common concerns at this stage are whether baby can digest the new foods, how it will affect their bowel movements and whether it will trigger any allergy. You can be assured that everything from Little Moppet Foods is made fresh and with the best quality ingredients – just like you would make it at home. Every food product is carefully prepared to ensure that it is both appealing to baby's taste buds and packed with necessary nutrients.
SINGLE GRAIN CEREALS 
Single grain cereals are considered the best first foods for weaning babies, since they are the most easily digestible and least likely to cause allergies. Start your baby's weaning journey by choosing from our wide variety of single grain cereals like white rice, brown rice, wheat, oats and barley.
SINGLE MILLET
In many Indian homes across the globe, the weaning process is initiated with finger millet or ragi, also known as nachni. Our Sprouted Ragi powder can be introduced in your baby's diet, once she is familiar with the basic single grain cereals.
Sprouted Ragi Powder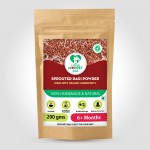 SINGLE FRUIT
After single grain cereals, fruit or vegetable purees are the most popular weaning foods. Be sure to start with single fruits or vegetables before combining them. In many parts of India, Kerala Banana is the preferred fruit of choice for weaning babies, given as a dried and ground raw Kerala Banana powder.
Raw Kerala Banana Powder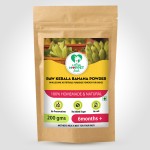 Stage 1 Baby Food – 6 Months+
Once baby has tried the basic first foods and has no problem digesting them, you can move on to other foods including some cereal combinations. Including these along with the earlier first foods will ensure variety and more nutrients. Check out our range of combination cereals with grains, millets and banana based cereals.
Stage 2 Baby Food – 7 to 8 Months
By 7 months, babies have tried most basic first foods and are ready to move on to more complicated dishes. Stage 2 baby food have newer ingredients like spices and other grains and millet, and also provide a slightly different texture.
HEALTH MIXES
Health mixes are carefully formulated mixes of various ingredients, including grains, millet, lentils nuts and seeds. Most of our health mixes have more than 5 ingredients, which is why they are recommended only after babies have tried the single grain cereals. For any new food, it's best to follow the 3 Day rule to eliminate any allergy causing ingredients.
INSTANT MIXES
Instant mixes are travel friendly mixes that contain just one or two ingredients. They are no-cook mixes – they just need to be mixed with hot water and are ready to eat. These mixes can be introduced after trying all basic first foods.
Stage 3 Baby Food – 8-12 Months
Your baby is now having multiple solid meals a day, and is more open to experimentation and lumpier textures. Try out our range of products that are more dense, making it fun for baby to eat.
₹

715.00 Prices include all taxes

₹

356.00 Prices include all taxes

₹

199.00 Prices include all taxes
Nut-based Products
Many Moms have qualms about feeding their babies nuts. On one hand there are all the nutritional benefits of nuts, while on the other hand there is the practical problem of feeding them to a small child. Our nut based range makes this easy, with different combinations of nuts available in a baby-friendly format. Please ensure your baby has tried each nut powder individually before going for the combinations.
Toddler Food – 12 Months+
By now, your little one is probably eating many of the foods the rest of the family is eating, but she still needs a little extra nutritional boost now and then! Fill in those nutritional gaps by continuing to feed her a balanced diet along with our nutrient-rich boosters that'll ensure she stays healthy and grows well.
₹

715.00 Prices include all taxes

₹

305.00 Prices include all taxes

₹

299.00 Prices include all taxes

₹

356.00 Prices include all taxes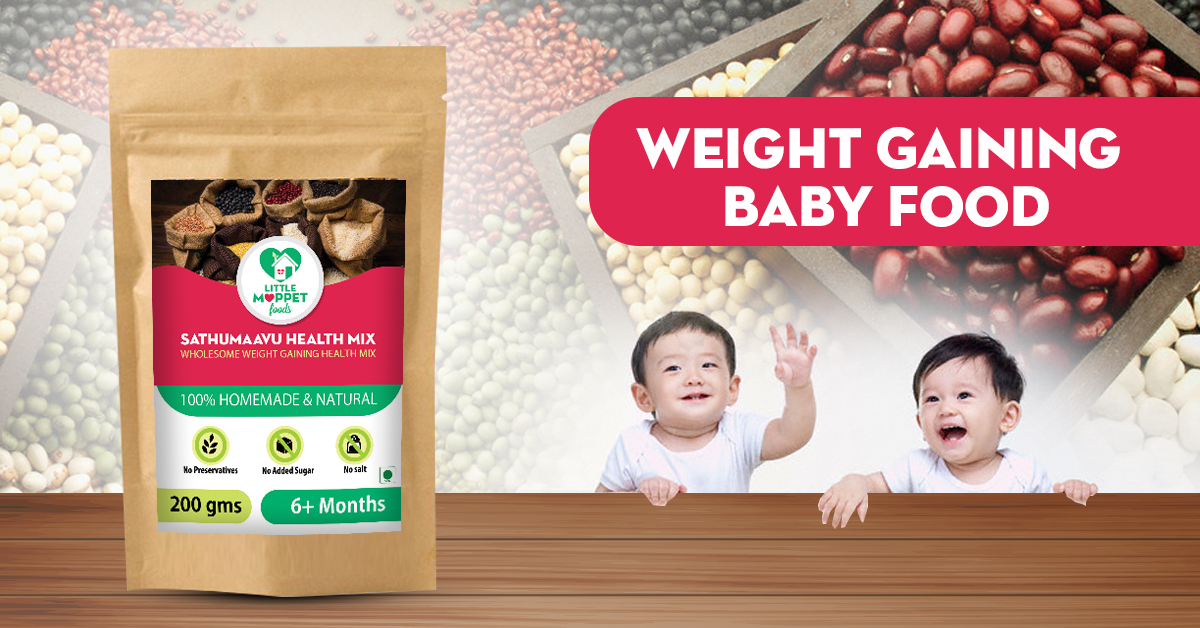 Moms often worry that their babies are not eating enough, but most of the time, there's no need to worry! We have handled the basics of baby development in several posts across the blog, and hope the following links will be of help to you: 
If you still can't find what you're looking for, do email us at info@mylittlemoppet.com, we will get back to you asap
Weight Gaining Health Mixes
₹

715.00 Prices include all taxes

₹

299.00 Prices include all taxes

₹

356.00 Prices include all taxes

₹

310.00 Prices include all taxes