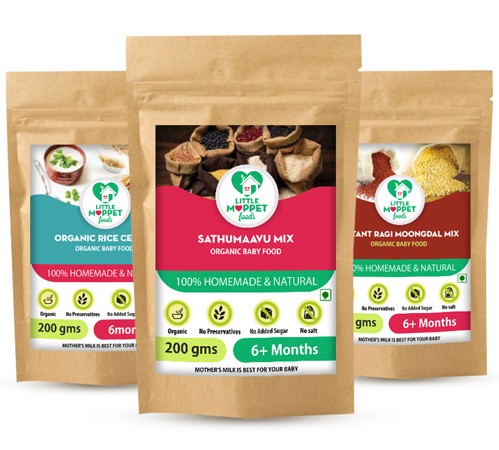 Wholesome nourishment for your baby's remarkable first accomplishments.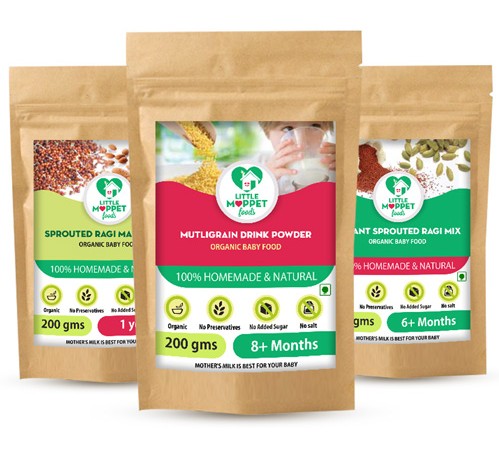 Every bite counts! Tots need nutritious, yummy food to fuel their increasingly active bodies.
Watch the story of Dr Hema and Little Moppet Foods !!
My Little one was a Premie and Little moppet has played a vital role during a very confusing, tiring phase of being a new mommy. After initial use, I was convinced and eventually confident that Anvika is getting good nutrition.

Thank you Hema and team for being my unseen pillar of strength..
I am more convinced than ever that you are the go to person for me when it comes to hassle free nutritious food. It makes me happy and the baby looks healthy. What more could a mother ask for!
I loved all the stuff I ordered. Will be ordering more in the coming months as my little one grows. Thank you very much and please continue the good work!
My Little Moppet never made us feel that we are giving any outside food to our precious little one. I always feel that I'm giving him a homemade, healthy and nutritious diet. On some days my son doesn't eat bread, vegetables or rice, but he'll love the health drink with dry fruits powder! Read More
I have had a wonderful journey with My Little Moppet.My daughter loves all the products. Thanks for being a part of this wonderful journey called motherhood!! Read More
I always wanted my son to eat dry fruits but he never did. I tried many health drinks – I didn't want any preservatives but there was no other option. That's when I read about Little Moppet Foods Dry Fruits Mix and how it's made without preservatives. Without a second thought I bought 2 packs and have been using them ever since! Read More
I ordered sprouted Ragi and was pleasantly surprised that my daughter (9 months) loved the taste. For breakfast, I was giving her readymade organic ragi powder porridge.Thanks for coming up with sprouted Ragi powder. It made my life a lot easier.
I have seen a marked increase in immunity and growth of my toddler after I started using your products. My husband loves his Multigrain Health Drink and has it daily instead of his morning Coffee.
Ordered Multigrain and banana wheat. When opened the pack, nice aroma made me to feed my toddler immediately even its not his eating time. Thanks alot Hema, for taking lot of effort to prepare this. I didn't felt that I bought the food, they were just home made with love and care by our own doctor mommy
I first bought sathumaavu from your store and started it when my daughter was 8 months and am still continuing it even though we have have moved to Australia . She is 14 months now and loves the sathumaavu porridge and kerala banana porridge. Read More
At first, I had some hesitation to give packaged foods to my daughter, but organic food products are a good idea in today's world. I was surprised to see that she liked the taste very much, especially of the raw Kerala banana powder! That aroma itself says that all products are homemade, just like it's been made by a mother's hand! Read More