Made with Love… and a Doctor's Expertise
Our delicious, homemade, organic baby foods are crafted with a doctor's expertise and a mother's love… Because we're parents, too.
Every Little Moppet product is carefully formulated to include complete nutrition and bags of flavor so you can feed your bundle of joy with zero stress!
Mamas Love of Little Moppet Foods
Trusted by over 52,000+ (and counting!) moms, across India, who choose the best for their babies and families.

Agalya
My daughter Venbha Loves Raw Kerala Banana, Sprouted Sathumaavu, Sprouted Ragi, Instant Rice Dal Porridge and the Multigrain Energy Drink. The reason we've stuck to Little Moppet organic baby foods is because they have zero chances of allergy for babies, just like homemade food.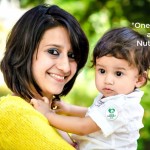 Dharmi
My son is slim but he doesn't have any deficiency as Sathumaavu and other products like health drink mix, ragi powder provided most of the things that's required for the body. Packaging is very neat and safe with proper labels on it. This site is an one-stop solution for organic

Vaishali
I'm looking forward to buy more products from your store as it is completely safe for my son rather than other foods that contain artificial stuff. I'm totally satisfied with the quality of your product. My Little Moppet is by far the best thing that has happened to me after

Sowmya
My Little one was a Premie and Little moppet has played a vital role during a very confusing, tiring phase of being a new mommy. After initial use, I was convinced and eventually confident that Anvika is getting good nutrition. Thank you Hema and team for being my unseen pillar of

Ankita
I must applaud you for the information I have got through the site, specially the recipes and the perfect time to feed the same. That made me purchase – I tried banana rice and instant khichdi last week and my baby is loving it!