Description
INGREDIENTS – BODY UBTAN
Lotus
Sandalwood
Walnut
Gram Flour
Red Lentil Flour
Turmeric
Neem
Kannauj Rose
Mix 3 tsps of Soundaryah'sIntensive Body Polishing Ubtan in a bowl.
Add sufficient water/yoghurt* to form a wet paste.
Apply all over the body on moist skin.
Gently massage in circular motions.
Wash off with water until no residue is left.
Use this 100% natural cleanser everyday for effortlessly glowing and youthful skin
*To choose the perfect base for your skin use :
-plain filtered water if the weather is humid and warm or your skin feels oily and sticky.
-yoghurt/full fat milk if the weather is cold or your skin feels dry and stretchy.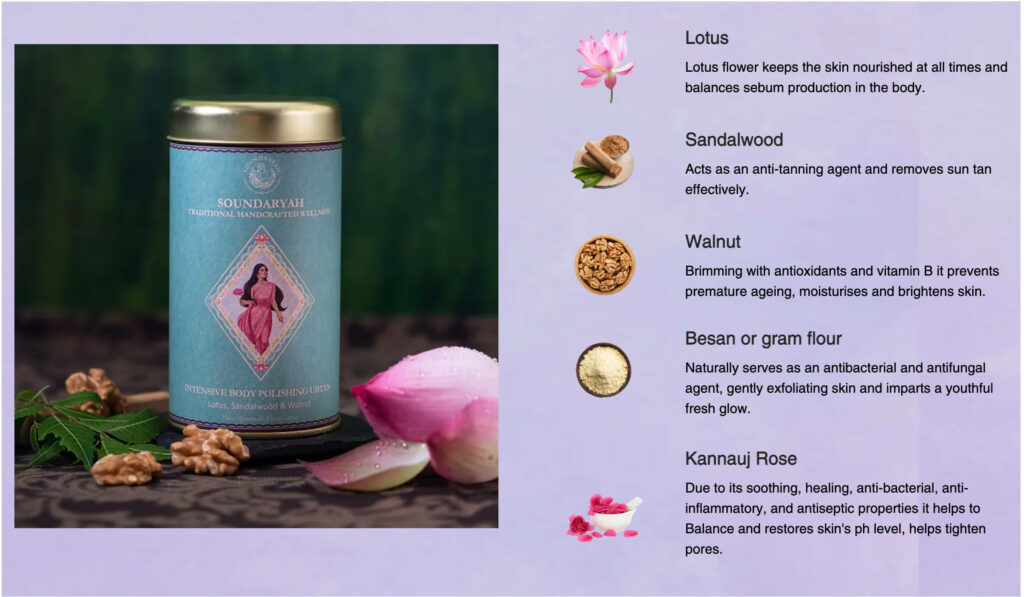 Frequently Asked Questions
Is this sensitive-skin friendly?
Yes, all products from the Soundaryah Wellness Range are suitable for all skin types, especially sensitive skin as they are free from harmful chemicals and harsh preservatives!
However, if you have allergies, we highly recommend that you look into the list of ingredients and conducting a patch test 24 hours prior to use.
Can I use it along with my current skin-care routine?
Yes, of course! You can begin by replacing one or two products from your current routine with Soundaryah's chemical free alternatives. For instance, you can swap your bodywash for Soundaryah's Intensive Body Polishing Ubtan to begin with and use it daily or once a week until you completely get accustomed to it.
Is this suitable for daily use?
Absolutely! Soundaryah's Intensive Body Polishing Ubtan can be used daily to Clean , exfoliate and detoxifying skin naturally.
Is this suitable for dry skin?
Yes, the Soundaryah Wellness Range is suitable for all skin types. We suggest using different bases for different skin types to ensure that your skin is well catered to!
For dry skin, you can use milk or yogurt as a base to mix in the powder.
We recommend checking out "How-To-Use" section for detailed directions!
Can I use rose water as a base instead of water?
Over-the-counter/pre-packaged rose water has chemical preservatives that defeats the purpose of using all natural skin care.
You can try our DIY rose water recipe that is devoid of chemicals to use during your skin care rituals as either a binder or a toner.
Can I just premix a whole batch with water and store it in the fridge?
Using water to premix and store the product would need additional preservatives to ensure that it does not go bad in a few days.
The Soundaryah Wellness Range is completely preservative-free because we have removed all water content from our wellness blends, allowing for a potent, concentrated mix that can be diluted and used at your convenience.
Hence, we recommend mixing this product just before use.