Welcome to Little Moppet Foods
India's 
#1
Organic Homemade Baby Food Store
With over 50,000+ Customers and counting, Little Moppet Foods is the most complete and trusted baby food brand homemade from a Doctor Mom's Kitchen.
 MEGA MOPPETEERS – Fun Filled Rewards Program
Mega Moppeteers is an exclusive community of parents who love Little Moppets as much as we do and trust us for their kids' good health and nutrition.
How Does it Work?
Each time you shop with Little Moppet Foods, you'll earn points. You earn 1 point for every INR 20 spent with us, so you get a cool 5% back into your rewards account for every purchase that you make with us.
When you redeem your accrued points, 1 point = 1 INR.
The cart value should be minimum Rs 750 to redeem the points and at one time 200 points can be redeemed.
The points are valid for 365 days from the date of addition.
You can start redeeming your points from your next purchase onwards!! That's right…. You can see your points history right HERE.
Tiered Membership Program
In addition to the reward points you get that you can redeem, we also have an exclusive tiered membership program for customers based on royalty points. For every 20 Rs. you spend on Little Moppet Foods products, you get one royalty point. As your royalty points increase, you enter any of our VIP tiers, which offer you a range of special benefits. Here is how it works, based on how much you spend in total:
Rs. 6,000 and above – Bronze Membership: Bronze Members get 150 points credited to their account + a discount coupon worth Rs 300
Rs. 10,000 and above – Silver Membership: Silver Members get 200 points credited to their account + a discount coupon worth Rs 500
Rs. 20,000 and above – Gold Membership: Gold Members get 300 points credited to their account + a discount coupon worth Rs 1000.
Refer a Friend Program
Each time you refer a friend to us using the link on this page, we send them a credit of 150 INR and to thank you for spreading the good word, we'll credit YOUR account with 150 INR as well right after your friend orders their first purchase from Little Moppet Foods!
 Love our Products ?
Do you love our products then you can encourage us to scale new heights by writing a review in our website. You earn 100 reward points for every review and it is automatically credited to your account.
Earn 150 points by writing a review in our Facebook page and another 150 points by writing a review in Google. Send us a screenshot to store@mylittlemoppet.com and the points will be added immediately.
Want to Join Us ?
Are you new to our store, don't worry, we have something for you too…. Signing up a new account will add 150 points to your account i.e, 150 points – 150 Rupees.
You can Sign up Here
How to Redeem the Reward Points ?
And Redeem the 150 points as shown below
Add products to your cart and go to the CART Page and click the Apply Discount text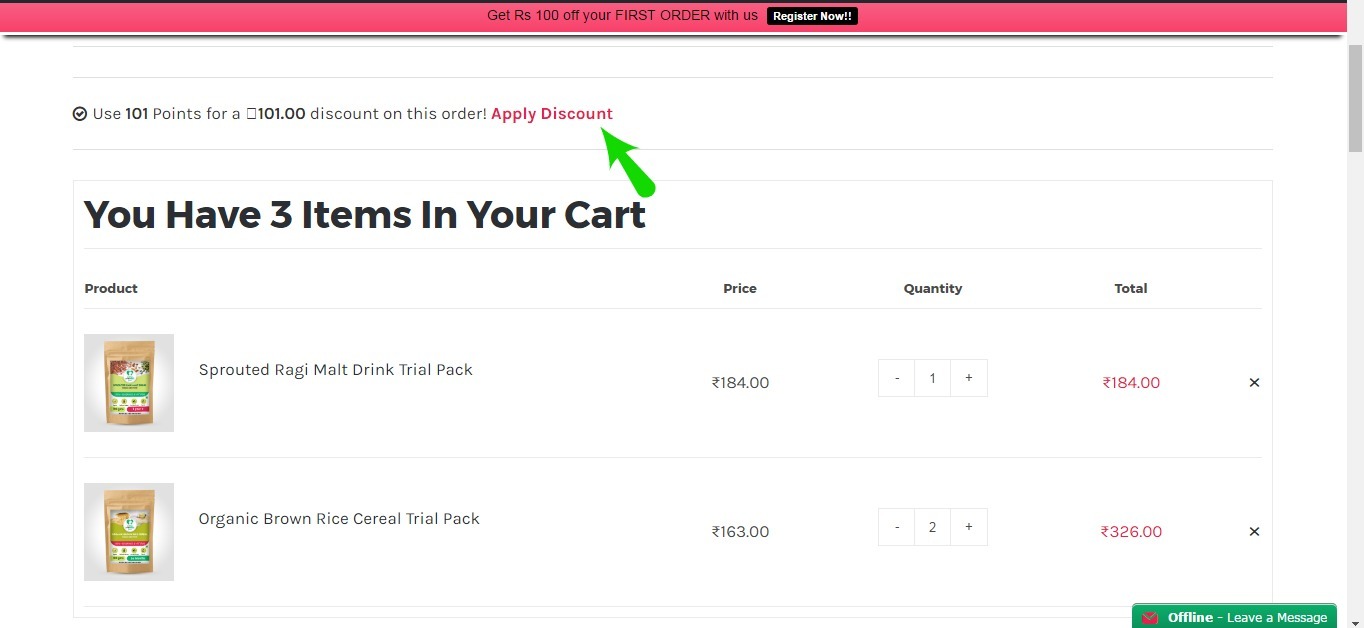 2. A drop down will pop up with a box to fill in the points to redeem, type in your points and click Apply Discount and the points will be redeemed for purchase.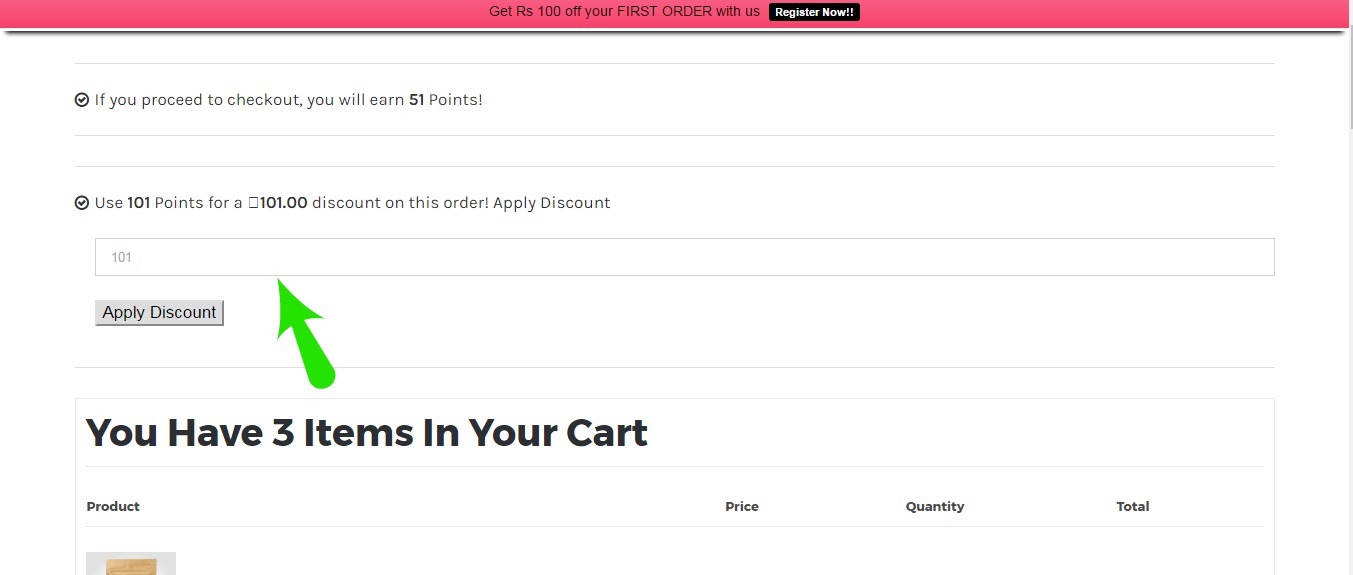 These are just a few benefits; there are plenty more in store, with special offers during festivals! So stay connected with us through our social media pages to know all about the latest happenings at Little Moppet Foods!
Healthy Shopping !!
With Lots of Love
Hema